Nikon Z6 II, Z7 II have new update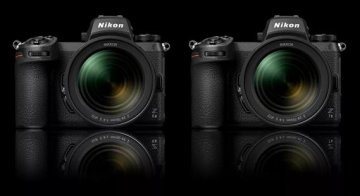 Nikon has announced that it plans to release a pair of firmware updates for its Z6 II and Z7 II mirrorless camera systems on February 25. In addition to standard bug fixes, the updates for both address additional enhancements, the ability to shoot 4K video at 60 frames per second, Blackmagic Raw recording, and improved Eye-AF performance.
Firmware is marked version 1.10 for both the Z6 II and Z7 II models will bring 4K UHD video recording at up to 60 frames per second. Unfortunately, this shooting mode is limited to Nikon's cropped DX-based recording format in "Normal" film quality mode. The performance of the eye-detection AF function has also been improved on both cameras. Nikon specifically mentions that "human subjects' eyes are detected even when the subject's face is smaller in the frame than in firmware version 1.00, allowing for smoother and more stable shooting.
Also new is Blackmagic Raw's ability to output video to external monitors and recorders Video Assist 5″ 12G HDR and Video Assist 7″ 12G HDR from Blackmagic Design. As with the Nikon Z6 and Z7 cameras, which received the Blackmagic Raw update late last year, getting this feature requires upgrading the video Raw by sending the camera to a Nikon service center for modification, and the modification should cost 199 €. Once the upgrade is complete, however, you'll be able to shoot with both Blackmagic Raw and ProRes Raw, depending on which external recorder you use. Speaking of ProRes Raw, it's also now possible to control the ISO and color temperature settings in Final Cut Pro X when shooting ProRes Raw video to an Atomos Ninja V external recorder.